Friday, March 18th at 8:00pm, We'll be playing Isle's video "Vase" (2015) and Blueprint's "Waiting for the World" (2000).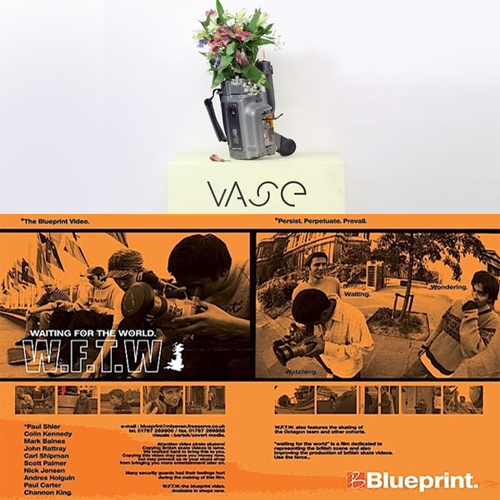 This time the theme revolves around Nick Jensen and Paul Shier who are in both videos. These videos are great examples of British skateboarding and are not only depictions of great skateboarding, but are also really well put together. Videographer Dan Magee and the Blueprint guys really helped put British skateboarding on the map when W.F.T.W. came out in 2000. "The energy that everyone on and around Blueprint had during the filming of Waiting for the World was incomparable to anything else I've felt since. …it was a really proud moment for everyone and I think that video was a huge turning point for British skateboarding and British videos." -Oliver Barton (2013).  After some weirdness with some Canadian investors and Dan Magee's departure from Blueprint, most of the team left and Jensen brought over Paul Shier to form Isle skateboards around 2013.  For "Vase", Isle chose videographer Jacob Harris to film the video.  Harris had previously worked with Isle rider Tom Knox on the independent video, "11th Hour" which was one of the best videos to come out of Britain since Dan Magee's Blueprint work.
To read up on some more history of Blueprint and Isle, here is a collection of interviews from some of those involved.  Be sure to check out the first link which gives a good history of Blueprint with lots of video links!
Sidewalk Mag's Tribute to Blueprint
Paul Shier Interview with Deaf Lens
Slam City Interview with Paul Shier
Sidewalk Mag's Interview with Nick Jensen
Dan Magee Video Interview
Dan Magee Interview
Dan Magee Interview with Theories of Atlantis
Grey Mag Interview with Jacob Harris
Green Zine Interview with Jacob Harris
Transworld Interview with Jacob Harris
Free Skate Mag Interview with Mark Baines
Lost Art Interview with Mark Baines
Deaf Lens Interview with Oliver Barton
Sidewalk Mag's Interview with John Rattray